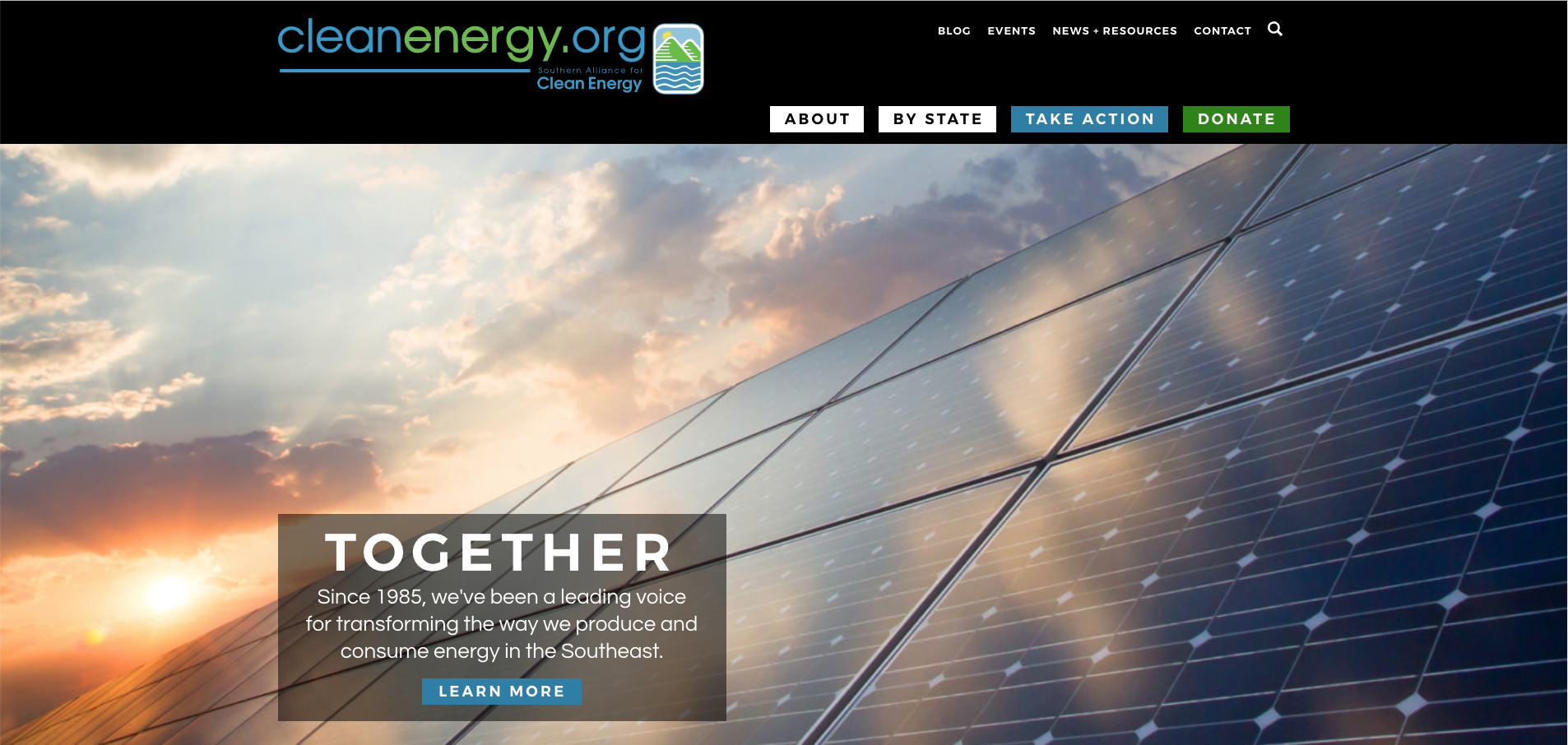 About the Organization:
Established in 1985, the Southern Alliance for Clean Energy (SACE) is a nonprofit organization that promotes responsible energy choices to ensure clean, safe, and healthy communities throughout the Southeast. As a leading voice for energy policy, SACE is a regional organization focused on transforming the way we produce and consume energy in the Southeast.
What We Did for SACE:
Reduced hosting costs by $7,025/yr
Created a responsive, impactful design with multilingual support
Consolidated content from three sites into one, making content much more organized and easy to navigate
Built category-specific content blocks on landing pages and sidebars to dynamically pull in relevant content from around the site
Developed a custom admin dashboard to allow their staff to easily publish and manage content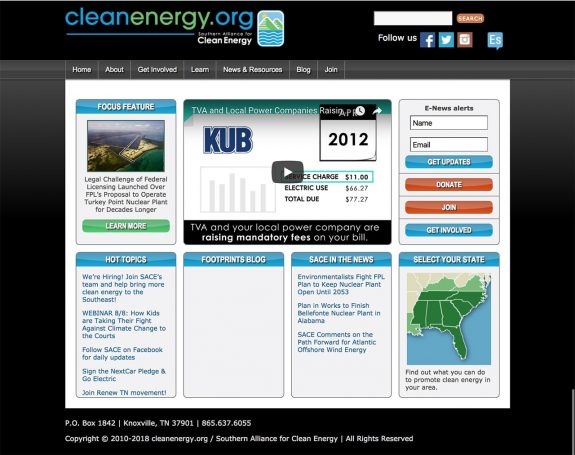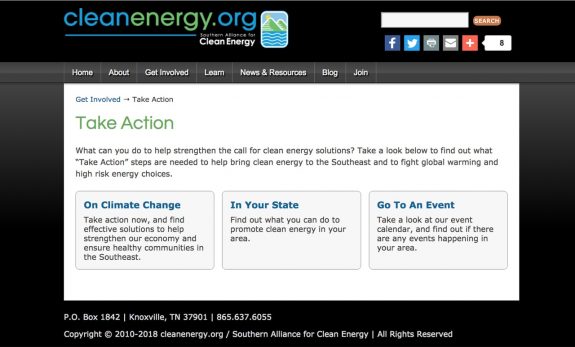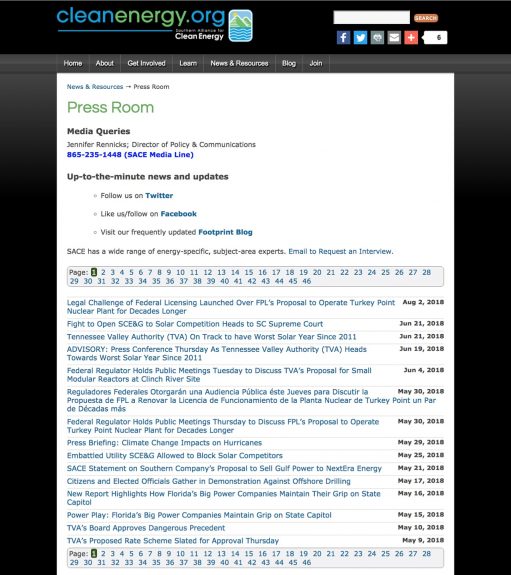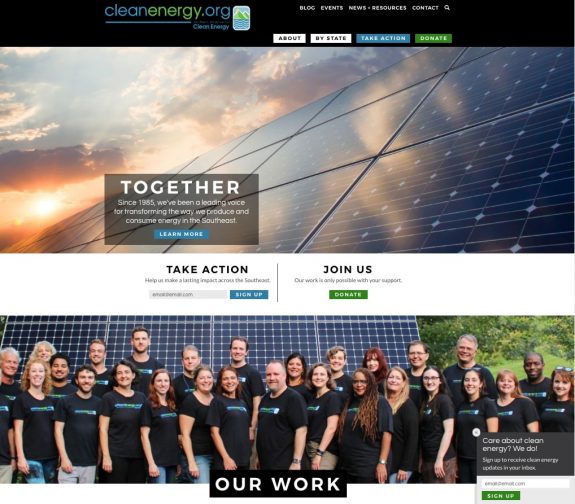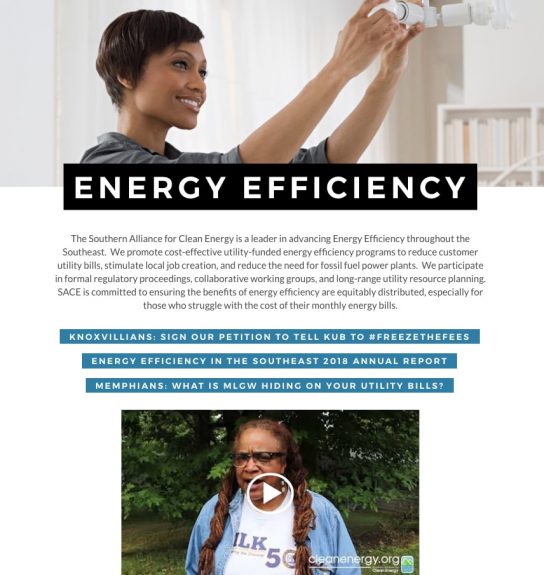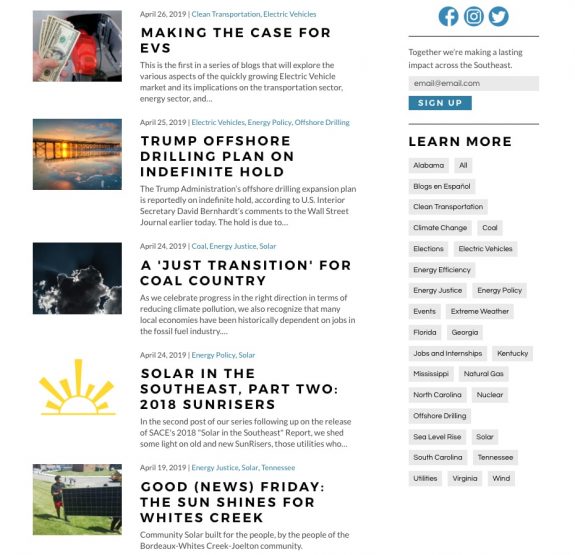 SACE came to us with an RFP aimed at upgrading and refining their primary digital domain – cleanenergy.org – which had become an old, cumbersome information clearinghouse, largely underutilized by users. Additionally blog.cleanenergy.org, was an outdated, non-responsive subdomain that was dividing up their content and audiences as well as creating more management pressure on staff. Since the website was last updated in 2010, the work at SACE has expanded to include both technical expertise and grassroots advocacy on clean energy and climate change issues throughout the Southeast. They needed a website that supports their entire focus, while still serving as a 24/7 information hub.
SACE needed a web design and development partner with custom WordPress experience, familiarity with EveryAction CRM, and a dedication to nonprofits that prioritize information exchange and engagement rather than sales. They had the express goal of engaging their diverse set of audiences – members, donors, volunteers, allies, media, and prospective employees.
We provided them expert technical guidance throughout the process – initial big-picture visioning, content streamlining and deep restructuring, tailored solutions to complex functionality challenges, and a bold, fresh look-and-feel in tandem with their new branding.
"FullSteam Labs was a solid contractor to work with to envision, design, and then launch our new website. They provided a reasonable cost proposal that didn't double during the process and they stuck to the initial timeline even when that meant pushing us to complete our necessary homework so they could move to the next step.

I would definitely work with FSL again, and in fact we do as we've contracted with them for ongoing IT consultation and quarterly maintenance."
—Jennifer Rennicks, SACE Director of Policy and Communications